Image courtesy of Monica Royal

Registration is required for this program
In this workshop we will play – a lot! This is the very thing that is missing in the pursuit of breathtaking artwork. I will be showing examples of what makes good macro images and then what it takes to make even better macro images! It's the little things that matter. (pun intended). If you think you have a solid grasp of macro I guarantee that in this workshop you will still learn new things.
I'll share all of my secrets for making those pesky little water drops hang off of flower petals and I'll demonstrate why their placement in the composition is so critical. I'll also explain how to photograph junk in such a way that you could sell it for thousands of dollars!
Be sure to bring your cameras as there will be plenty of shooting opportunities!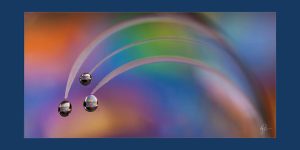 ---
Monica Royal
Monica Royal's obsession with macro started, like many others, with water on flowers and quickly grew to advanced abstract image design. She especially enjoys photographing ordinary objects and making them completely unrecognizable. "It makes for some really fun conversations!"
Her macro imagery is widely recognized as unique and innovative. She's won Illustrative Photographer of the Year with Professional Photographers of San Diego for 5 consecutive years. Her artwork has been published in magazines and was most recently on the cover of Tamron's National Magazine. Monica's articles and podcasts have been shared on numerous webpages. She has taught in several states and continues to produce new artwork that leaves people asking, "what IS that?"
As a social and entertaining artist, as well as an expert in visual design, she has become a sought after speaker & private teacher. Monica travels the country speaking and teaching with the sponsorship of Tamron USA and Miller's Professional Imaging behind her.
Monica speaks and teaches internationally, and her fine art photography hangs in permanent installations in commercial establishments and in private collections across North America.
Monica's Social Links
Website | Instagram | Facebook | Twitter
Monica's Work
---
Registration:
PPOC/IEPPV Member Pricing, Not a member ask us how to join.

PPA/PPC/CCDA or Local Affiliate Members other than PPOC or PPOC.

This membership is for Non-PPOC members. This membership includes tuition for Making Mysterious and a 2023 PPOC Professional Membership.
Click here to register